Dave & Marilyn Eider • PO Box 1390 • Eureka, MT 59917 • 406-250-0247 • eiderdm@interbel.net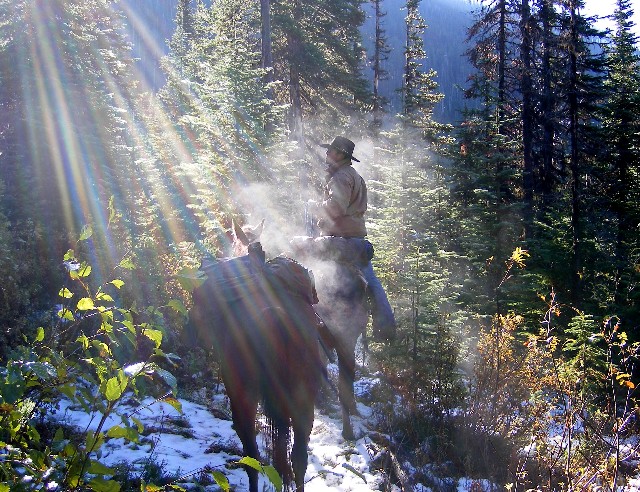 Windwalker is located in the Rocky Mountain wilderness of SE British Columbia. Our exclusive half million acres is bounded on the south by Glacier National Park, Montana; the east by Waterton National Park, Alberta and the Flathead River to the west. We have sole hunting and recreation rights to this magnificent area that contains eleven lakes, uncountable streams, one river and the Akamina-Kishenina Provincial Park.
Only our main camp is accessible by four-wheel drive during the hunting season. The Kishenina Camp is a four-hour horseback trip to the south. Both camps are well equipped with cabins, horse corrals and tack rooms. The cabin at both sites feature wood heat, propane lights, bunks with foam pads and yes, we have hot showers. Tent camps are used as needed. Our guides are all highly experienced professionals who take pride and satisfaction in providing you with a safe, successful and memorable trip on a one to one basis. You will be provided with three full meals each day plus snacks. If you have a favorite dish, or special dietary needs our cook encourages you to let us know in advance so we can make your trip as enjoyable as possible.
If you are flying in from the USA, we will pick you up and return you to the Kalispell, MT airport. We have found this to be destination to be the most reliable and reasonably priced.
ELK - Our success rate of 60-80% on 6X6 or better bulls is trophy quality. All bulls to date have scored 290 B&C points or better! '06 brought a whopping 401 B&C elk. '09 percentages were much the same and many hunters are returning in '10.
SHIRAS MOOSE - We have an abundance of moose with our present quota being two bulls. An average bull will measure between forty and fifty inches. In '98 we took a 571/4-inch monster that will make the B&C book. Our 2005 moose will make the book in the top 10 B&C.
BIGHORN SHEEP - Our prime location between Glacier and Waterton Parks makes a record book ram a true possibility. Book early because we only have one permit each year. This is a rugged backcountry hunt that requires very good physical condition.
GOATS - Eight to ten inch Billies are average with a chance at an eleven-inch plus trophy
Elk, Moose, Goat & Sheep hunts include either Whitetail or Mule deer, plus Black Bear.
GRIZZLY BEAR - Spring Only. According to the Ministry of Environment, our area has the highest concentration of Grizzly Bears south of Alaska. These bears wear an eight-foot plus coat in every color from blond to black. We only have one or two tags a year so book NOW. The best time to hunt Grizzly is when they first leave the den in the spring. We prefer our hunters to be on call because this could occur between mid May and early June in any given year.
BLACK BEAR - This hunt entitles you to two bears. Our bears measure 51/2 to 7 feet with colors running from blond to black. Most hunts are spot and stalk with some calling. During the spring, bear hunt you will enjoy beautiful sunny days ….all in all it is a great time to be in the backcountry.
WOLF - I have always felt that the wolf is one of natures most fascinating and magnificent creations - a true symbol of the wilderness. I also feel we have way too many wolves and you may hunt them on any hunt with an appropriate tag.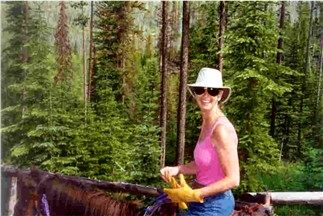 SUMMER PACK TRIPS - Backcountry horse pack trips for fishing, photo or just plain fun. Each trip is customized to fit the individual needs of your group. No experience is necessary.
We would like to thank you for taking time to consider Windwalker for your next hunt. When you do go, enjoy the total hunt, the scenery, the companionship, and the camps. The trophy is important but should not be the entirety of the hunt. If you have, any questions about the hunts we offer please call us and we will be happy to assist you.
Happy Hunting,

Dave, Marilyn and the Crew

---

Gallery About Us Links Documents